Middle Schoolers monitoring Howard's Creek
The Middle Schoolers are continuing to monitor the health of Howard's Creek and submitting results to the State.
Thursday afternoon means "Reading Buddies" ... the Upper El students listen to the afternoon workers read to them....
Getting into the Routine
We are getting into the routine in Primary West. We have a lot of new students from the pre-primary class and from other schools. Our returning students are being wonderful leaders, and proudly showing them the routines in our class. It is beautiful to see the love and caring that these children show each other!
I know you may not hear much about what your child is doing all day. Here are some good questions to begin conversations, but please be patient with your child. She may not be ready to share.
"Did you help someone today?"
"Did someone help you today?"
"Did you watch a work today?"
"Who did you sit next to at lunch today?"
"Did you sing a song today?"- We started music this week- so this can be a fun one on Thursdays!
"Did a friend give you a lesson today?"
"What is your favorite work in the class?"
"Did you laugh today?"
I have also included some pictures. You can look at them with your child, and he may be more inclined to talk about school :)
We have truly enjoyed getting to know your children better and spending our days with them!
Ellen, Dianne, and Taylor
Building a Community in Primary East
Primary East is off to a great start, with lots of changes happening. Maybe you've heard the new Alphabet Song your kids are singing (a) (a) apple (b) (b) boy. Many new lessons have been given and the cobwebs of summertime are being cleared. New and returning children are becoming oriented with the classroom and the expectations of the classroom.
A huge "Thank you!" goes out to all the parents for all your donations towards the materials we needed.
As we continue to expand our space into a traditional 3-6 classroom, we find new priorities to focus on to create the most beneficial prepared environment for your children. Through building our classroom, we have come to realize there were a few items missing from the list of materials we need. Please let us know if you're interested in purchasing any materials for the classroom. We will be putting out the links soon.
It's been wonderful being able to add the golden bead materials, a.k.a 'The Bank' to our classroom, as well as the metal insets, the geometry cabinet, the botany cabinet, and the hundred board. We are working on making new language works daily and have really enjoyed sharing these beginning language lessons with the children. The whole class is working together to build a peaceful classroom community. We've been discussing what it means to be a role model, how to treat each other with respect and how to be great friends to each other. We are encouraging the use of the term "great friend" rather than "best friend" in order to teach and awareness of everyone's feelings.
Speaking of great friends, please send your love and healing thoughts to Jonah and his family as he recovers from a ruptured appendix. We wish him well and cannot wait to have him back at school!
Please let us know if you know anyone with the carpentry skills and time needed to build a few more shelves for our classroom.
Thank you for sharing your amazing, bright, precious children with us!
-Sara and Brian
Pre-Primary is Discovering Independence...
Our youngest friends are jumping into all the works and have been curious about all aspects of the classroom. They are learning how to do things for themselves, and already succeeding. ... and failing... and trying again.
Carolyn, Ashley and Lauren are carrying on our exciting Mountain Pathways toddler tradition, and it is amazing to watch. Oh, and speaking of Ashley, she will be playing her guitar and singing her songs out at Banner Elk Winery on Saturday, Sept. 17 from 1-5 pm. It is a family-friendly event, so head on out there for a beautiful afternoon (far enough away from the madness that will be downtown Boone that day when the Miami Hurricanes come to town).
What's the Buzzzzzz in Upper Elementary?
Time is flying and so are the bees! We are into week 3 and slowly but surely making progress towards normalization. We have been completely engrossed in watching our nuke of bees behind the Norwood House. We had our first baby bee hatch and watched them do their orientation flight where they fly in a cross type pattern in front of the hive to learn their latitude and longitude. Last Saturday my dad came up to check on their progress and found our queen bee and assessed the health of hive which he proclaimed as "vigorous!" and the queen, "Perty!".
So far our studies have included our first few lessons in geography where we have covered why the Appalachian mountains are so special, some flora and fauna, and some interesting geological features. We are in quick review mode in Mathletics- just the basics with the goal of restoring fluency for the work ahead. Science we have discussed basic taxonomy and why we use it for plant identification. As far as the farm is concerned, we have been weeding and doing basic maintenance as well as harvesting some cucumbers, tomatoes, and squash.
Looking ahead we have our first overnight to Stone Mountain, North Carolina planned and many trips to the library in between.
Have a great weekend!
Kristy and Emily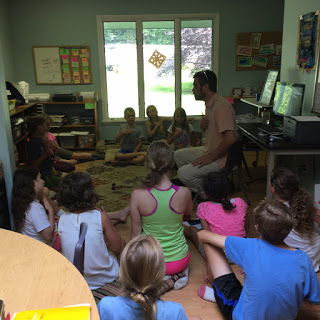 Our first installment of "Music With Mark" was a hit on Thursday, here he is teaching the Upper El "The Hambone."
Diversifying Ourselves in Lower El
The Lower Elementary has taken on a diverse afternoon schedule this year. We have a busy work morning, lunch time, followed by outside time. After outside time and a quick rehydration, we tackle a different subject every day.
On Mondays, we are currently talking about creation stories and the question "How did we all get here?"
Tuesday brings a writing lesson with Ms. Kristen, Wednesday afternoon is Art, specifically pieces created by artists of African heritage as we begin our Nile Project (more on that later...) Thursday afternoons we have a geography lesson with Mr. Justin, and Friday afternoons bring an awesome science experiment. A lot is being explored here in the 6-9 class, so stay tuned for more!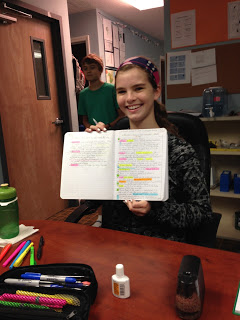 ...Highlight the notes, internalize the notes... Just another day in Middle School.
And Don't Forget Afterschool!
Taylor, our first full-time alumni employee, and Lauren, fresh off the boat from sailing school in Manteo are having a blast with the big kids and Ashley and the Primary East teachers are teaming up to keep up with the toddlers.
The End of Summer at Mountain Pathways....
Here are some pictures and happenings from the summer at Mountain Pathways, Pre-primary all the way to Farm Camp! Enjoy!
We all enjoyed a long "Four Day Fourth of July Weekend." Our class shared stories of fireworks, swimming, and cookouts! Summer School enjoyed plenty of outdoor activities.Some favorites included: blowing, chasing, and popping bubbles, "1,2,3,...GO!" relay races on our playground, singing "Wheels on the Bus, Days of the Week, ABCs, Hello Summertime," and many more tunes! We were happy to have Jaimie in our Pre-primary classroom for summer. Jaimie graduated from Appalachian State in May 2016 with a degree in Elementary Education, and got married on Independence weekend! Congratulations Jaimie, Mountain Pathways is grateful for your assistance in the Pre-primary class.
It's Elementary, Kids....
6-9 has spent some time at Farm Camp learning about the garden and having lots of fun in the process. Mornings were spent working with Ms. Kristy and her helpers, planting and harvesting a variety of herbs and vegetables. Every day, a group snack was prepared using the ingredients from the garden. And, of course, Pebble Beach is enjoyed after lunch!
Farm Camp!
Farm Camp had a productive last few weeks with harvesting herbs, vegetables, and preparing mushroom logs. Farm to Flame pizza also visited and the campers enjoyed making their own pizzas. This final week, we visited Elson Green's goat farm and learned about his day-to-day farm duties. We also had some friends bring a dairy calf to the school! We discussed what makes a farm a farm, and spent a lot of time getting our hands dirty by working as a team, and valuing our farm's place in the Boone community.
Thanks
Another big thanks to Miss Kristen for putting together the summer Pathway... Thanks also to MP graduate Alayna Arnholt, who did her internship service for her enrollment at the NC School of Science and Math with the toddler class over the first several weeks.... Thanks for all your hard work Alayna!
Happy Summer, everyone!